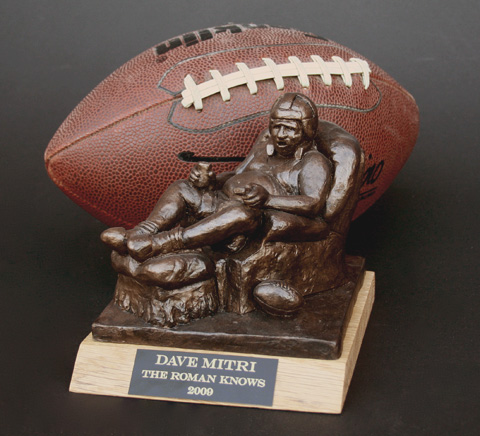 After what seems like an eternity playing fantasy football, I finally won a league this year. The following is an email I sent to the rest of the league shortly after the championship game concluded. If you ever find yourself in a similar situation, feel free to use this basic template to rub your victory in the faces of the rest of the league. Basically, it's like a taunting Mad Lib. Fill in the blanks where necessary:
(Number of years in the league)
seasons, countless hours spent provoking
(Owner #1)
via email, and several emotionally-conflicting
(quarterback who you own but plays for a rival team)
touchdown passes later and all I have to say is this: it's about fucking time.
It all started so poorly. My first year, I finished dead last and then in the offseason, I gave up
(star player)
to a commissioner who was taking advantage of an owner that did not yet fully grasp the intricacies of the keeper system (seriously,
(Owner #2)
shouldn't be allowed to trade with first-year owners). In my third year though, my luck changed. I made the playoffs. But I lost. Then I made the playoffs again. I lost again. Another playoffs. Another loss. This year, I was fully ready to cement myself as the Marty Schottenheimer of the league. Four straight years in the playoffs, three championship games, and until now, no championships. But thanks to dumb luck and others' stupidity, this year was different.
(Feel free to edit details of your own league history as you see fit.)
I have so many people to thank for this:
(Player #1)
,
(Player #2)
,
(Owner #3)
(for trading me
(Player #1)
and
(Player #2)
),
(Player #3)
, and
(Owner #4)
(for refusing my
(Player #3)
-
(much worse player)
trade -- to name a few.
Of course, sheer dumb luck also played a part. As the oracle
(Owner who you don't feel the need to insult)
once opined, "This league is 90% luck. Fuck you,
(Owner #5)
." I couldn't agree more. This championship is yet more proof that fantasy football is nothing more than luck --
(shitty player)
geting me 22 points in the championship game should be as much evidence as you need. And
(Owner #5)
should always be put in his place.
Still, in all my years playing fantasy football, this is my
(first title/first title that matters/finest moment)
and I will consequently rejoice now that the curse has been broken. There will be riots and looting in the streets.
(Hometown)
will never be the same. Or maybe it will be. I doubt anyone cares about this but me. Whatever.
(Insert gripe about putting up with the mundaneness and mindless work of your job/school)
. Let me have my moment. I'll try not to pull a muscle patting myself on the back.

....

Thanks. I appreciate it.

Finally, as a man much poorer than Randy Moss once said: "Straight check, homey. When you're a (student/grad student/lowly office peon/migrant worker), you can't afford to have cash lost in the mail."

Love,
The Champ